The sport of racing horses extends back to the early domestication of horses by nomadic tribesmen in Central Asia. Since that time horse racing has taken place in a variety of settings and by a variety of people.
The activity of horse racing has an ancient origin. In ancient Greece and Rome, horse racing was a sporting event for the wealthy. Races involved both chariots and jockeys who rode horses without using stirrups. Equestrian events (such as four-horse chariots, two-horse chariots, and riders) were also a part of the ancient Olympics.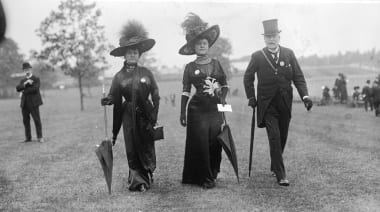 Over time, horse racing has remained popular, and it has evolved to become a sport of gambling, thoroughbred horses, and upscale customs. Even the quaint horse barn has evolved to become a sophisticated hub where racehorses are bred and kept.
1600s
During the 1600s, horse racing was popular in England. As British colonists began arriving in the New World, they brought this sport to America. Initially, the races were simple in nature, involving just two horses and riders racing over longer distances. These sprint races were eventually outlawed because pedestrians were being run over. People began using a select few horse breeds for racing. Breeding created the Narragansett Pacer, which was a popular horse among colonists. A race track was built and began operating in 1665 in what is now Nassau County, New York.
Parisian Haute Couture at the Longchamp Racecourse in the Early 1900s.
The popularity of Longchamp, where races were run for the first time in 1857, signaled a general revival in French horse racing, making it the perfect place for designers and fashion lovers to show their new outfits. The early 1900s mark the full flowering of Parisian haute couture as the arbiter of styles and silhouettes for women of all classes. Designers would send fashion models or mannequins to the Longchamp races, wearing the latest styles. During the event fashion photographs were taken to identify the creators of individual gowns.
Today, still, 'Race day' is as much about the clothes as it is about the sport, and dressing up in the finest garments and luxurious accessories is a self-evident requirement if you're aiming at blending in with the in-crowd. Yet in this double guest-curated feature, we shift the focus to the early decades of the 20th century, when modern horse racing was reaching its heyday.
Zooming in on French fashion of the 1900s and 1910s first, then jumping ahead to the 1920s and 1930s in the UK, we follow major trends and changes on the racecourse-runways and discover through early photographic images that paddocks and stables, muddy tracks, and groomed greens were among the first-ever outdoor backdrops shown in fashion photography.
2022 /LIVING/ D&F Magazine