If you're looking to go all out for your next vacation, these especially luxurious trips are sure to fit the bill. Breathtaking destinations that made the list include the British Virgin Islands, a private island in the Bahamas, a trip to the Alaskan Wilderness, Kenya, and so many more.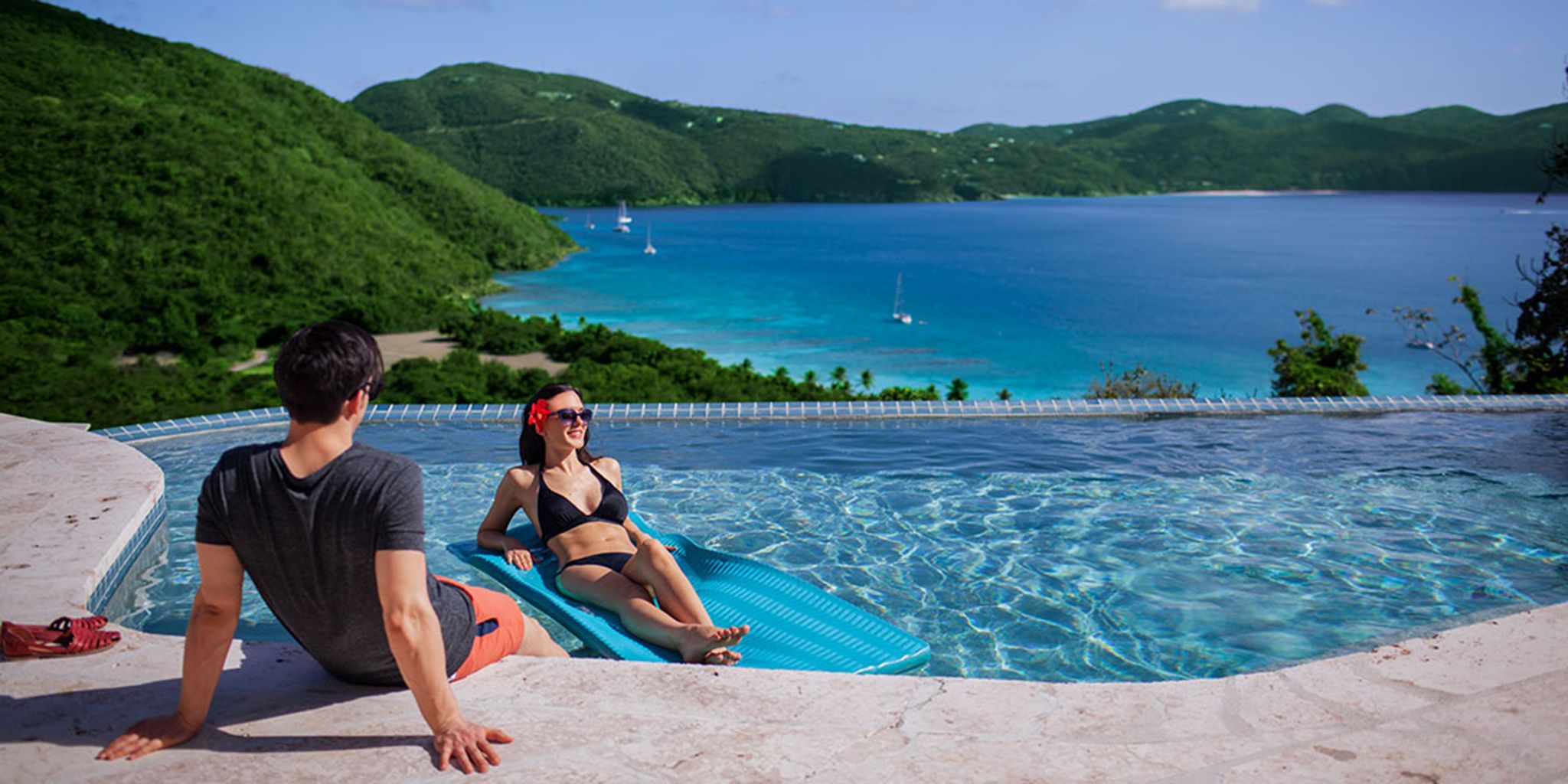 Guana Island
Guana Island is a private 850-acre resort island in the British Virgin Islands, known as a playground for Britain's wealthy, and it has no public access, which means that while you'll need to fly into neighboring Beef Island and then take the resort's boat to your final destination, you'll have the chance to enjoy once of the most peaceful, relaxing vacations of your life. You can spend your days lounging in a hammock and sipping exotic drinks, enjoying the seven powdery white sand beaches practically all to yourself. You can get more active by going snorkeling in the clear, warm azure waters that are filled with a wealth of marine life, hiking, and taking yoga or tennis lessons. The all-inclusive experience includes a sea view cottage with three meals per day, including outstanding gourmet offerings at the onsite restaurant, as well as snacks, wine and use of all facilities.
Musha Cay and The Islands of Copperfield Bay
Musha Cay and The Islands of Copperfield Bay – yes, that David Copperfield, are part of The Exumas, as a collection of 11 picture-perfect isles. You don't have to worry about bumping elbows at this top luxury resort in the Caribbean. Musha Cay in the Bahamas epitomizes a magical paradise in every way possible, with 40 white sand beaches lined with native flora and fauna. This is a small, exclusive resort that accommodates just a couple dozen guests in luxurious beach houses. You can savor and enjoy delicious fresh cuisine caught from the neighboring sea after exploring the area of a jet ski or snorkeling adventure.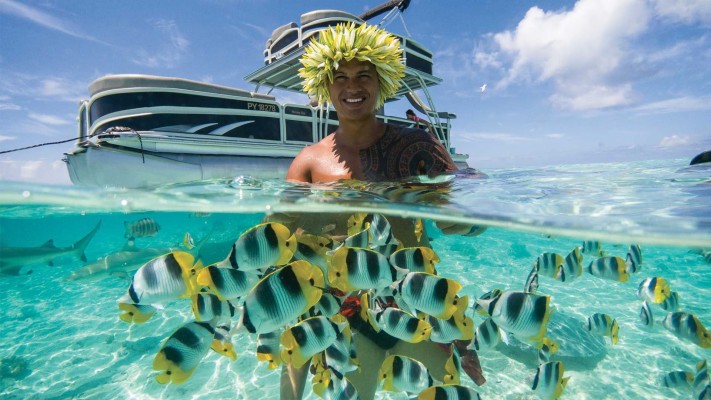 Bora Bora
Bora Bora is a tiny island in French Polynesia and one of the most well-known for its luxury hotels and experiences. The average night on the island is around $800, although that does include meals. Not surprisingly, Bora Bora tends to draw a number of celebrities and business elite who are seeking the best of the best, and you'll be able to enjoy the trip of a lifetime if you can afford it. The Hilton Bora Bora Nui is ideal for beach and water lovers, with some of the best coral near its Polynesian-designed overwater bungalows – all you'll have to do is walk off your deck and step into the brilliant undersea world.
Turtle Island, Fiji
After Turtle Island was thrust in the spotlight as the location of the 1980 film "The Blue Lagoon," it became world-famous for its pristine blue waters and fabulous beaches, as well as a very exclusive tourist destination able to accommodate just 14 couples at any one time. It perfectly captures the true romance of the South Pacific with its tranquil beauty, exotic flavors and ultra-luxe Bures, the Fijian word for a wood-and-straw hut, with views of the Blue Lagoon. Enjoy 14 secluded beaches, moonlit dinners at the edge of the sea, romantic picnics for two and horseback riding at sunrise. There are lots of water-based activities too, like diving, snorkeling and swimming. Each one of the private abodes features 1,500 square feet of living space, including a fully stocked refrigerator.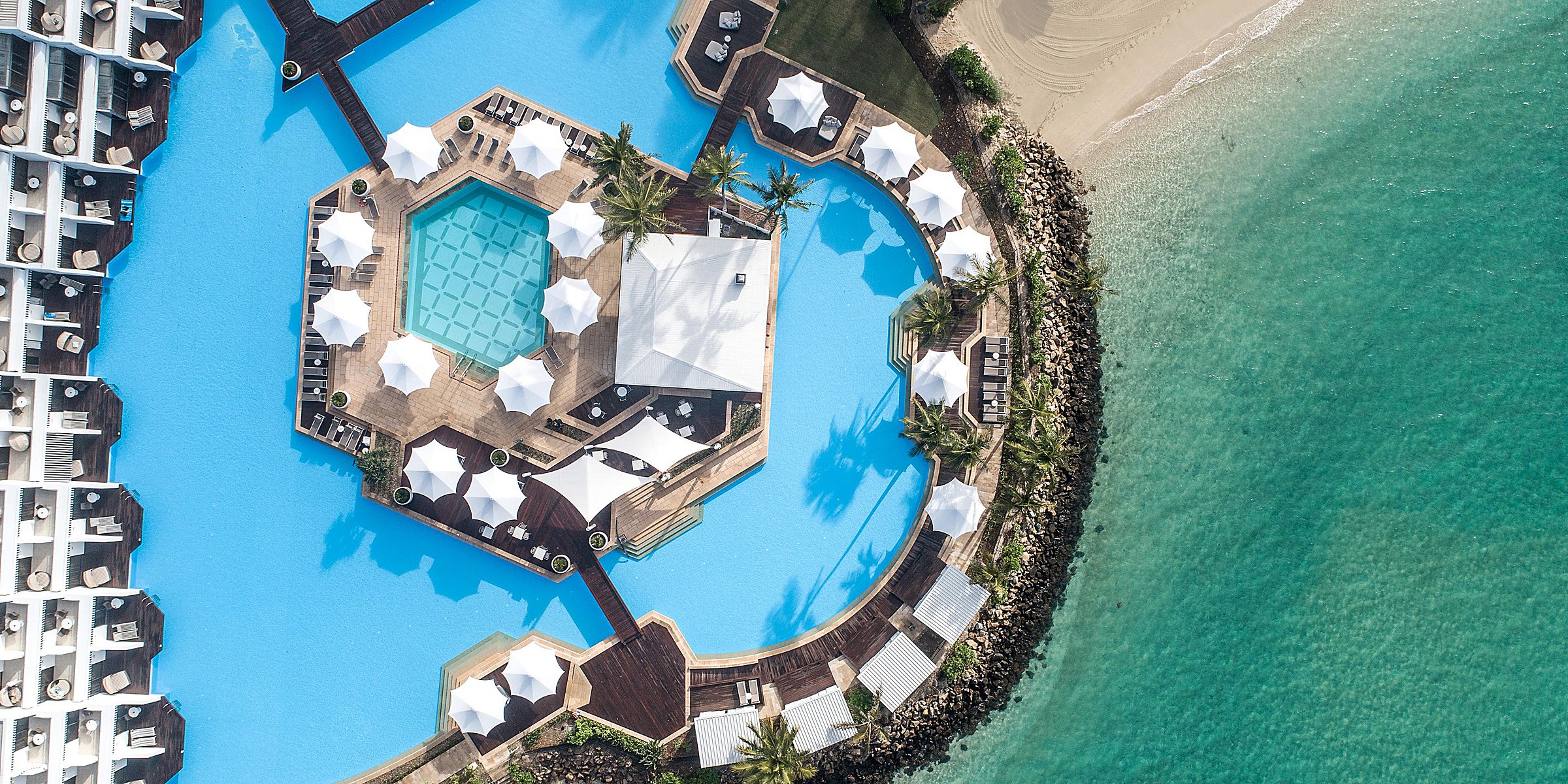 InterContinental Hayman Island Resort
InterContinental Hayman Island Resort – Whitsunday Islands, Australia
Hayman Island is a stunning private island in Australia, offering a premier location with a front-row seat to the Great Barrier Reef. It's set right within the Great Barrier Reef Marine Park, stretching for more than 1,400 miles along the Queensland coast in the Whitsunday Islands, internationally renowned as one of the most magnificent stretches of tropical coastline on the planet. A stay on this island means lots of attention to detail and elegant resort living set within three distinct areas, each designed to make the most of the awe-inspiring island views and natural surroundings. Feast on innovative cuisine in a variety of restaurants and take part in all sorts of thrilling activities including helicopter and seaplane adventures, diving, snorkeling, fishing, kayaking, sailing and more. The resort also features the Hayman Spa, a fitness center, tennis courts, and an indoor golf simulator.
Ol Jogi, Kenya
Ol Jogi is a private family ranch, owned by the Wildenstein family, offering the best of the best when it comes to African safari escapes. Very upscale, there are luxurious touches throughout its cottage suites, like sumptuous Hermes linens and perfectly polished Buccellati silver. The highlight, of course, is the wildlife, and as it's set on 58,000 privately owned, protected areas. It's home to 64 of the less than 1000 black rhinos that remain in East Africa, thanks to its conservation efforts (all profits go to support them), as well as some 500 elephants, depending on the season. Activities include walks with baboons, game drives, horseback riding and more.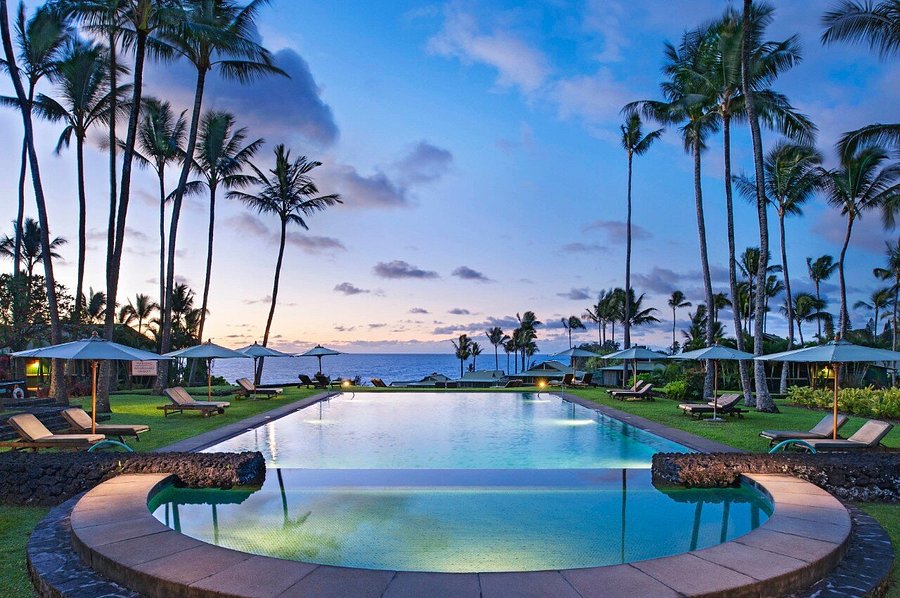 Hana-Maui Resort, Hawaii
Hana-Maui Resort is one of the most luxurious resorts on Maui, located in the peaceful town of Hana, set among lush rolling fields and palm trees overlooking Kaihalulu Bay. Each of its guest rooms, suites, bungalows and family residences has a private lanai and full or partial ocean views and is designed without clocks, radios, or TVs. There's also an on-site restaurant serving farm-to-table fare, an indoor and outdoor spa, a yoga center and pavilion, and a wellness center.
Ultima Thule Lodge – Anchorage, Alaska
If your idea of a vacation is spending time in a remote wilderness area with access to thrilling outdoor adventures and an abundance of wildlife, along with all sorts of luxurious amenities, the Ultima Thule Lodge may be for you. This all-inclusive luxury lodge sits in the heart of the Alaska wilderness, 100 miles from the nearest road, the only way to get there is to fly in. You may be in the middle of nowhere, but you'll get to enjoy a wood-fired cedar sauna as well as dining on gourmet meals, often of fresh fish or game, along with homemade goodies like bread and pastries. Activities include flights over Wrangell-St. Elias National Park (included in the all-inclusive rate), where you'll land on glaciers and get a bird's-eye view of wildlife like grizzly bears. Hiking, fishing and kayaking can all be arranged as well.
NIHI Sumba – Indonesia
Located on remote Sumba Island, about an hour's flight from Bali, NIHI Sumba was named the world's best hotel for two consecutive years by Travel + Leisure and was recently nominated for the Condé Nast Traveler Readers' Choice Awards. It offers the ultimate in luxuries while being a sustainable, environmentally friendly property. The all-inclusive rates include mouthwatering meals, drinks, a complimentary minibar, and many of the activities on offer, including snorkeling when the turquoise waters that edge it are calm, and world-class surfing when a swell rolls in. There are also unique cultural experiences that include a visit to the local villages and markets for local arts and crafts, monumental megalithic burial sites, and more. Each residence, available in one- to five-bedroom options, includes private pools that overlook the beach and the sea, canopy beds, and your own private butler.
Mykonos Grand Hotel and Resort – Mykonos Island, Greece
Mykonos is one of the most cosmopolitan of the Greek Islands, a destination that attracts VIPs from around the world. Visitors can expect to find many high-end shopping venues, fine dining restaurants, and some of the best nightlife in the world. The Mykonos Grand Hotel and Resort is the perfect spot to base your stay for enjoying luxury and jaw-dropping scenery, set right along the sands of Agios Ioannis Beach. Scattered between cobbled paths, the rooms and suites blend Cycladic architecture with soothing interior décor while opening out to balconies or patios with pool, garden, or sea views. The property includes two restaurants, an open-air dining room where fresh seafood and other Mediterranean dishes are served while another eatery is at poolside. It also has its own private beach, an outdoor pool, hot tub, spa, gym, and amphitheater where yoga classes are offered.
Explora Patagonia – Torres del Paine National Park, Chile
Outdoor adventurer looking for luxuries? Explora offers a unique experience that caters to those who usually avoid all-inclusive getaways. Instead, it provides "all-inclusive adventure." It may be the perfect base camp from which to discover the stunning natural surroundings of Torres del Paine National Park, but it's a whole lot more than that. It includes a traditional Guincho, horse stables, a heated pool, multiple open-air Jacuzzis that overlook Paine River, a massage room, and more. Guests can enjoy exploring scenic guided hikes and horseback rides of various lengths, as well as looking forward to enjoying dishes that feature Chilean ingredients.
Singita Boulders Lodge – Sabi Sand Reserve, South Africa
Located along the banks of the Sand River in a privately owned reserve that sits within the Sabi Sand Reserve adjacent to the Kruger National Park, Singita Sabi Sand is renowned for its abundance of big game and frequent leopard sightings. There are giraffes, wildebeests, elephants, impala and zebras too, which also makes it popular among lions. The lodge provides an intimate stay in one of 12 one- or two-bedroom suites all of which come with their own private pools, open fireplaces, indoor and outdoor showers, and private game-viewing decks. Rates include all meals, which can be enjoyed in-room or in the restaurant with dishes focused on pan-African, European and Asian flavors.
Azur Lodge – Queenstown, South Island, New Zealand
Located in one of the world's most breathtaking destinations, Azur Lodge is perched on a hillside, showcasing the beauty of the Queenstown region, just two miles from town while providing easy access to the many activities that await in the country's adventure capital. Look forward to whitewater rafting, jet boating, bungee jumping, skydiving, and zip-lining, or more gentle pursuits like hiking and biking. Made up of villa accommodation, all include bathrooms with rainforest showers, double spa baths and huge windows that bring the outdoors in.
2021 /Travel/ D&F Magazine