"There is a shade of red for every woman." Audrey Hepburn
These are the wise words of the great Audrey Hepburn in the 20th century.
Sure, you could construe this in a literal context; after all, red lipstick comes in a variety of hues—from the deepest crimsons to the brightest cherries—that are bound to be flattering on every woman's skin tone. However, given the complicated history of red lipstick during that period, the quote takes on a different meaning entirely. A red lipstick is one of the most integral items in a woman's makeup bag. Today, a scarlet pout is one of the most powerful symbols of beauty in the world. But have you ever considered where the iconic beauty product came from?
The history of red lipstick is a colorful, tumultuous one, charged with centuries of significance. Many historians consider ancient Sumerians in 3500 BC southern Mesopotamia to be the first inventors of lipstick. Red rocks were crushed into a powder to tint the lips red. Others like to credit the birth of lipstick to the ancient Egyptian elites, where Cleopatra was known to wear lip paint created using crushed insects mixed into a vibrant paste of red waxes.
Regardless of its true origin, the concept of wearing red lipstick has always been a major social signifier that carried with it a multitude of meanings. Depending on the location and century, the visual statement was a flirtatious signal of seduction, a declaration of social status, a show of wealth, or an indication of confidence. Perhaps most interestingly, the simple beauty product has even been used—and scorned—as a feminist tactic for "terrorizing" men. Adolf Hitler was one of the men who famously hated red lipstick, and in Allied countries, wearing it became a sign of patriotism and a statement against fascism. For whatever reason, the undeniably feminine color bestowed women with a mysterious aura of power that came off as frightening, morally dubious, and highly intimidating to some people.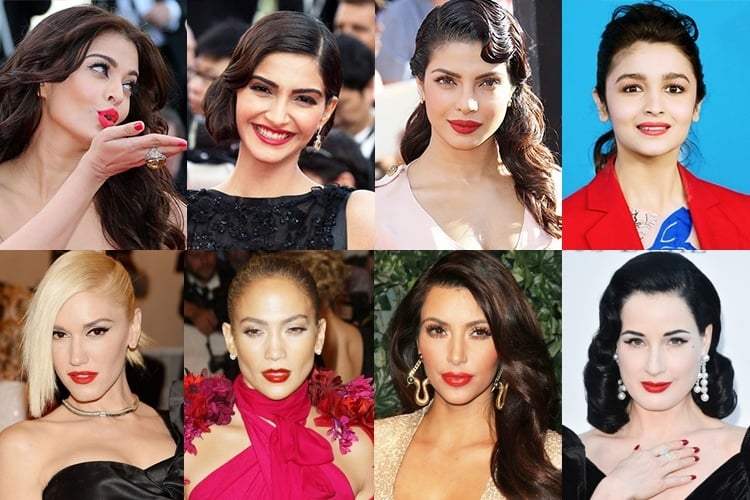 In the U.S., this witnessed its peak in 1912, when women started to march in order to gain attention for equal rights (including the right to vote). In order to gain more notoriety and attention to their cause, some would wear red lipstick to public events. "This was seen as the mark of the independent emancipated woman, which at the time was thought to be quite scandalous," says Gabriela Hernandez, who started her Bésame Cosmetics line with a lipstick from 1920. "This subversive action would have brought censure from men and some women who regarded these women as morally lacking."
Suffrage leaders Elizabeth Cady Stanton and Charlotte Perkins Gilman, in particular, loved red lipstick for its ability to intimidate men, and protesters decided to adopt the bold color as a sign of defiance. Leading cosmetics brand founder Elizabeth Arden would pass out free tubes of bright red lipstick to the women along the Fifth Avenue suffragette march route in New York City. At that point, red lipstick became a symbol of not only women's liberation, but rebellion. Women would publicly apply red lipstick with the intent to shock men and declare their independence from the social stratifications that limited them.
As red lipstick became a symbol of the American suffrage movement, it began to gain popularity internationally. As women's rights movements spread across the world, British suffragette leader Emmeline Pankhurst also donned a red lip, which helped spread the symbolic action among her fellow activists. Red lipstick as a political statement is even seen today. In 2018, Nicaraguan men and women sported red lipstick and uploaded photos of themselves to social media to show their support for the release of anti-government protesters. In Chile in 2019, almost 10,000 women took to the streets with black blindfolds and red lips to denounce sexual violence in the country.
"Women who wear this color say that it emboldens them," says Hernandez. "The color red has carried this connotation for centuries, and it still does to this day. The 'Iron Lady' Margaret Thatcher, who served as prime minister of the United Kingdom, always sported a red lip, and now we see it in new State Representative Alexandria Ocasio-Cortez." By wearing red lips, women are empowered to tap into the same movement. It's chic, elegant, and flattering, but it's also so much more than that. It's bold, defiant, undeniably feminine, and visually powerful.
"The women's movement was about women having choices, which included the way they looked and wore cosmetics. I think the choices in makeup available today enable people to express their preferences. There is a sea of choices to aid in discovery and self expression." says Hernandez. "Red is the color of passion and strength. I think makeup now is really a mirror of what you believe for others to see."
If you're looking for your own tube of empowering red lipstick, here are some of our personal favorites:
Related Items
1 Besame Cosmetics Red Lipstick 1920
Gabriela Hernandez, founder of Bésame Cosmetics, started her entire brand with this lipstick inspired by the nascent movement. This was one of the first colors she found in her search to match vintage cosmetics for modern wear—and it has been the brand's staple red ever since. With the striking deep hue and blue-toned base, we have to say, they nailed it.
2 Elizabeth Arden Beautiful Color Moisturizing Lipstick in Red Door Red
The woman who helped start it all, Elizabeth Arden was always the biggest backer for women's rights. Her red lipstick helped women reach the place we are today, so it only makes sense that it's included here. This one is infused with moisture-enriched pigments that help seal in moisture, leaving your lips feeling soft and giving them a more voluminous appearance.
3 Covergirl Outlast UltiMatte Liquid Lipstick in Wine O Clock
The pointed applicator on this liquid lipstick ensures that application is precise without bleeding or feathering. The matte lip color is formulated like a stain to be transfer-resistant, so there's no need to reapply 10 times a day.
4 Revlon Super Lustrous Glass Shine in Fire & Ice
A recent addition to the Super Lustrous family, the Super Lustrous Glass Shine counterpart is the perfect fusion between a gloss and a lipstick, making it the ideal option for drier lips. The moisturizing formula offers incredibly glassy shine and brilliant color that instantly melts in as you swipe it.
5 Stila Stay All Day Liquid Lipstick in Beso
Stay all day is right—I mean seriously, this waterproof red liquid lipstick has lasted me through two meals, drinks, and a nap (and I'm a stomach sleeper). You'll also love it if you hate the feeling of makeup on your lips; despite its incredible staying power, it has a featherlight feel.
6 YSL Rouge Pur Couture Lipstick in Le Rouge
Dressed in probably the most ~luxe~ casing in lipstick history (I mean, just look at that gold packaging), the highly pigmented color inside is also packed with a bunch of antioxidants for a dewier finish than most lipsticks.
7 KISS New York Professional's Fierce Cream Lipstick in Red Orange
This vitamin-E-infused formula is most memorable for its uncommonly creamy texture, and although it's a red, the shade has a slight orangey tint, which makes it extra bright and flattering on most skin tones.
8 Hermès Beauty Rouge Hermes Satin lipstick in Rouge H
Rouge Hermès, the first and most emblematic of the Hermès Beauty line, is a classic and mainstay in the lipstick business. The iconic collection contains 24 shades with evocative names, but our favorite has to be Rouge H, a deep burgundy with just a hint of brown.
9 Patrick Ta Major Beauty Headlines Matte Suede Lipstick in That's Why She's Late
Straight from Kim Kardashian's makeup artist himself, Patrick Ta's makeup collection doesn't disappoint. You can't miss the popping pigments in his lipstick range—or his product names (which include Oh She's Single and She's Not From Here). The creamy formula has ultra-fine spherical particles that leave behind a matte, blurred finish without feeling dry or tacky. 
2021 /Health & Beauty/ D&F Magazine