To be skilled at layering jewelry is not unlike being proficient in the arts. Well-chosen necklaces, a spectacular ring stack, or a masterful earring arrangement are all worthy of applause if not deserving of a standing ovation. OK, that's slightly dramatic. But you follow our jewelry-minded gusto, yes? Half the fun of building a jewelry collection is figuring out fresh ways to layer your favorite pieces — that and showcasing as many of them as possible without looking like a try-hard.
Of course, certain outfits call for varying layers of jewelry. An everyday ensemble like a t-shirt and jeans is the perfect canvas for a mix of chains, bracelets, and earrings. The same goes for clothing you'd wear to the office or for a professional event; personal pieces that read subtle and sophisticated are key. However, statement earrings or a unique pendant is entirely appropriate, too.
Dressier moments like a wedding or party are the perfect occasion to go bolder with your jewelry layers. You can mix in statement pieces like a bold earring, colorful bracelets, or a cocktail ring. Or, experiment with more distinctive designs, whether it's an asymmetrical earring or sculptural shape. You can even go full-on razzle-dazzle with layers of colorful gemstones, diamonds, or rhinestones.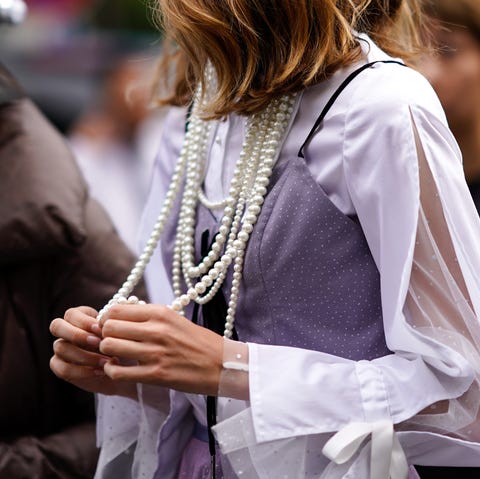 Then, there's the question of how to layer jewelry with other accessory fixtures like a watch or, possibly, an engagement ring. The short answer: whatever feels right to you is best. Though, a few specific tips lie ahead.
Since layering jewelry is a legitimate art form, we sought out the advice of jewelry designers Jacquie Aiche, Bouchra Ezzahraoui, and Sophie Kahn of Aurate, Zoë Chicco, and Alyssa Wasko of Donni. From the basics of layering necklaces to tips on building ring stacks and how to combine earrings for a stellar ear party, keep reading for their expert tips. Plus, shop the edit of jewelry, from affordable pieces to investment-worthy buys — you know, if you're in the market for a little something special.
I've always had somewhat of a simple style and have relied heavily on one thing to take my outfits to the next level: jewelry. Statement necklaces, colorful gemstone earrings, 20 Indian-inspired bangles on just one arm, you name it! I love it all, especially when I wear a lot at once. There is something so effortlessly cool and chic about wearing stacks of bracelets and layers of chunky or dainty necklaces. Although it looks easy, you may over think it and choose the wrong pieces. Here are a few tips to keep in mind:
How to Layer 3 Necklaces: When layering necklaces, stagger the pieces from shortest to longest in length. The trick is to wear the most delicate piece closest to your neck, and the larger pendants on the longest chain to avoid tangling. Need more guidance? Here's a good step-by-step to achieve the look: a) Most necklaces are 13-15″ long with a 1-2″ extender. The first one should be fastened at its shortest length. b) The next piece should be fastened at its longest length in order to create enough space so that the first two pieces aren't laying on top of each other. c) Lastly, the longest piece should be 17″ and make the biggest statement as seen in the photo below.
How to Layer Bracelets: The best piece of advice I can give you is that ALL types of bracelets go together. Avoid wearing sets of only one type – mix simple chains with bangles, beads, and cuffs. Play with different styles and silhouettes to create dimension and a unique look of your own.
3. Don't be afraid to mix metals. There was a time where I had to match the hardware on my purse and shoes to my jewelry. Those days are long gone! First of all, who has time for that? Secondly, fashion should be fearless and metals look great mixed together. Cartier created the Trinity ring in 1924 with three intertwined bands, in three different colors! We cannot question Cartier, now can we?
Happy layering!
2021 /ART/ D&F Magazine