Fancy roast beef, a croque, or perhaps a PB&J? Here are the country's most-iconic sandwiches, and the one place you should try each.
A good sandwich is as American as apple pie, spawning dozens of regional interpretations and variations from New York City to Nebraska. Here are the most-iconic sandwiches in the United States, and the perfect place to try each one. Try these sandwich ideas and turn a ho-hum lunch into happy-dance delicious!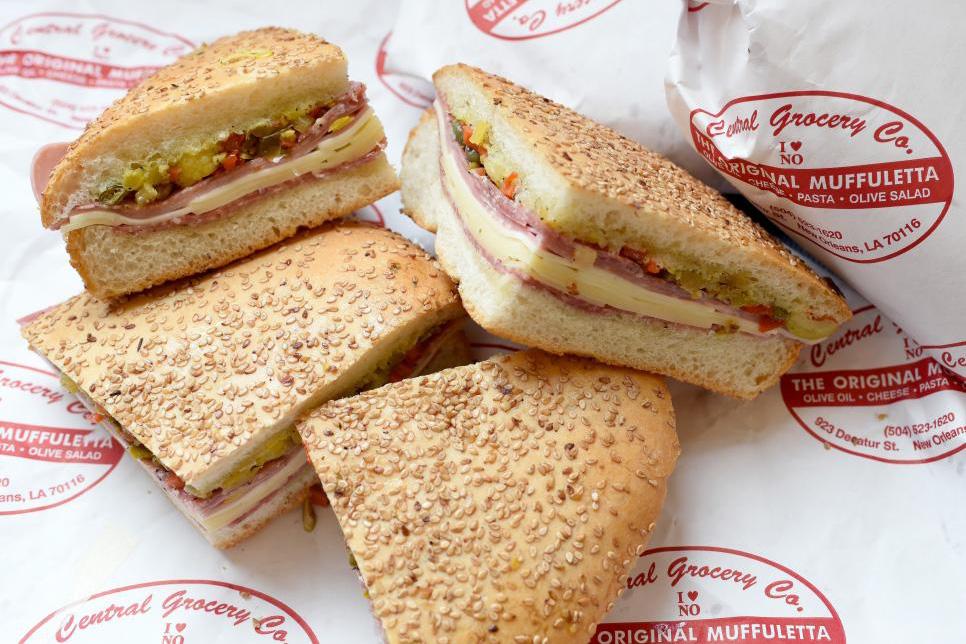 Muffuletta: Central Grocery (New Orleans)
Long ago, Italian immigrant Salvator Lupe watched his Sicilian farmer patrons struggle to eat their traditional platters of Italian salami, olive salad, cheese, Italian ham and bread on their laps outside his Central Grocery. He realized he could drastically improve their lives — or at least their lunches — by combining all of the above into an easily held meal. With a sprinkle of freshly minced garlic and a round loaf of sesame-sprinkled bread, the muffuletta was born. That quintessential NOLA sandwich is now found on nearly every restaurant menu in the city, but the proper place to experience its magic is at the place it was created, Central Grocery.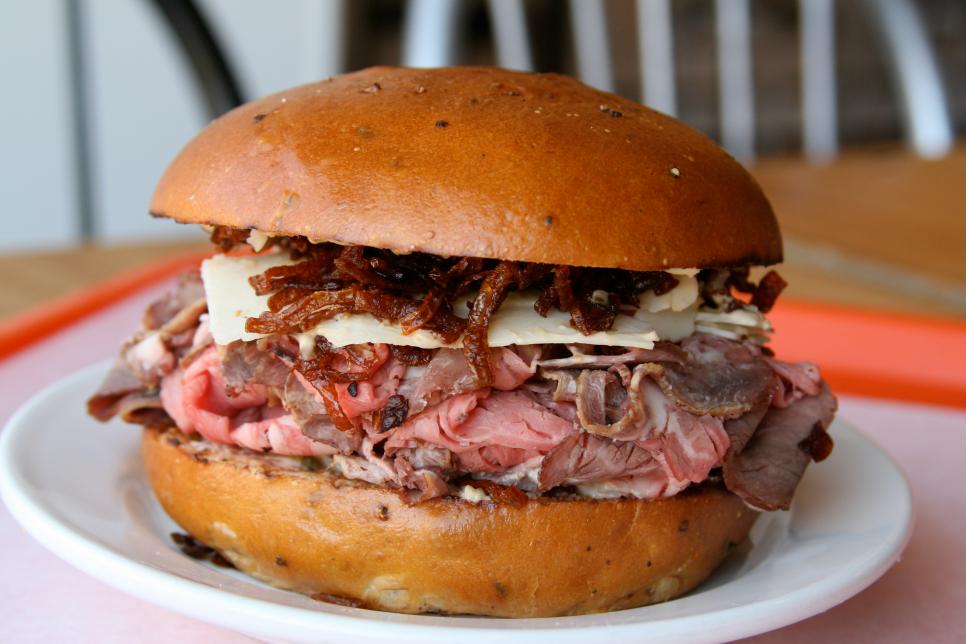 Roast Beef: Cutty's (Brookline, Massachusetts)
Boston is a roast beef sandwich kind of town, especially around the North Shore, where roast beef joint upon roast beef joint churns out one exemplary specimen after another. Still, Cutty's in Brookline serves one of the best in the U.S. — and possibly the world. Its Roast Beef 1,000 features all-natural Niman Ranch chuck, a beefier, juicier and higher-quality cut than most of the rounds other purveyors get. Over the course of about 36 hours, it's rubbed with a "secret salt" mix, left to cure overnight, slowly roasted and rested to room temperature. For each order, it's sliced fresh and topped with fried shallots, Vermont sharp cheddar and horseradish-spiked Thousand Island dressing on a black-pepper brioche bun.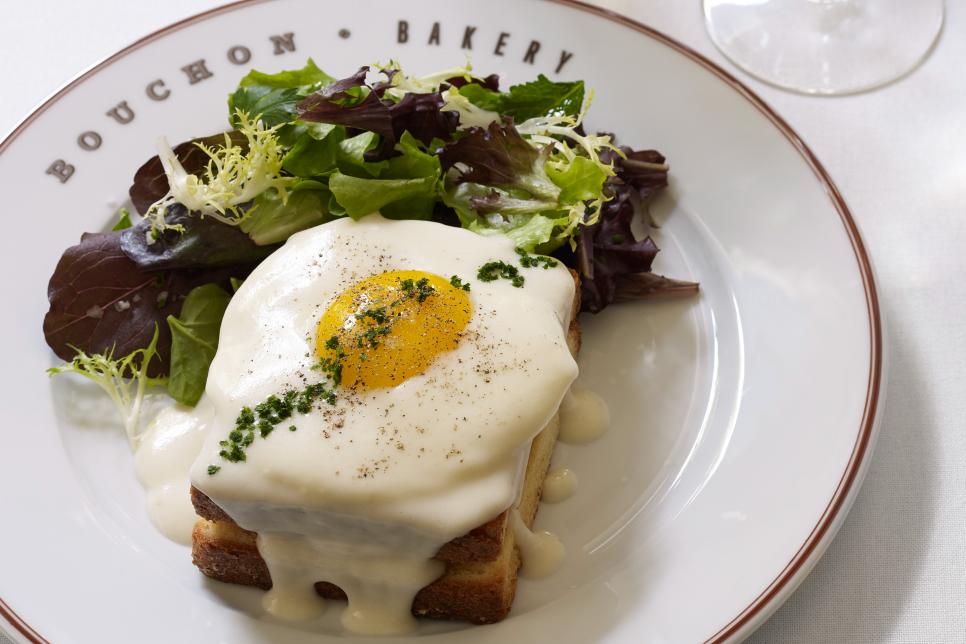 Croque Madame: Bouchon Bakery (Yountville, California)
The croque monsieur is the fancy French cousin to the American ham and cheese — an elevated combination of boiled ham between slices of sweet pain de mie, topped with grated cheese, baked, fried or grilled, then covered with decadent Bechamel sauce. Put an egg on top and it becomes a croque madame. Thomas Keller offers his own chef-y take on the latter at his renowned Bouchon Bakery in Napa. There, the internationally acclaimed chef accents thinly sliced Madrange Jambon de Paris with thick-sliced Brioche (baked on site of course), Swiss cheese and nutmeg-, clove-, pepper- and Comté-infused Mornay sauce, making the already indulgent dish even more extravagant. Take that, France.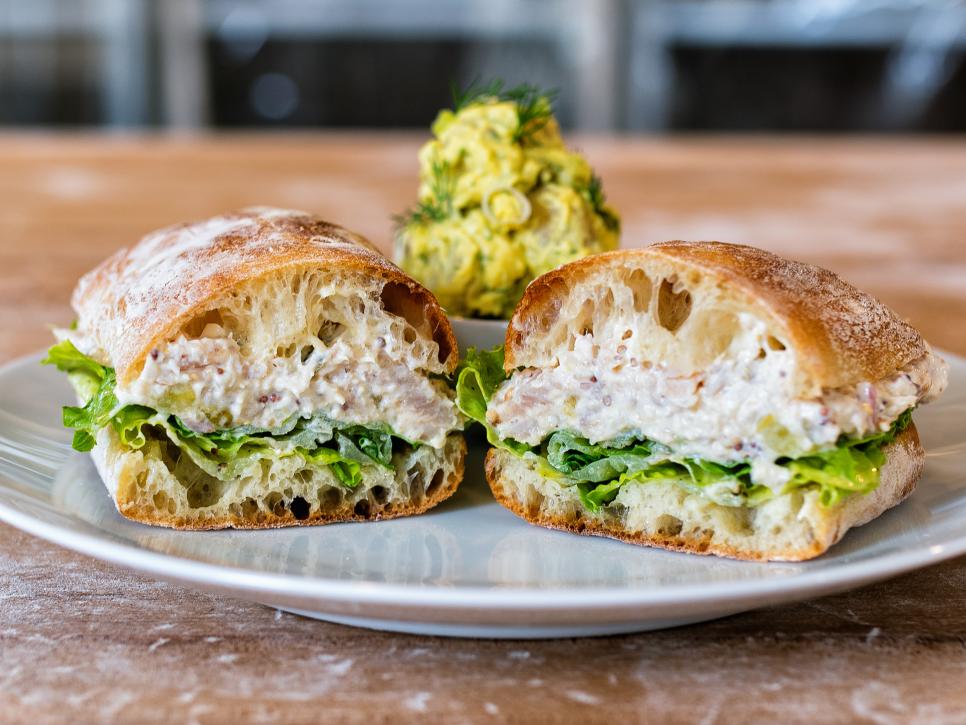 Smoked Trout Salad Sandwich: Union Loafers Cafe (St. Louis)
One might think seafood is limited in states that don't have direct access to the sea, but wherever there's a river or a lake in the United States, there tends to be trout. That delicious freshwater fish can be found from Montana to Tennessee, served in all kinds of delicious forms. One of those mainstays is the trout salad sandwich. At Union Loafers Cafe in St. Louis, the sandwich-obsessed chefs smoke the fish over apple wood and mix the meat up with housemade mayo, lemon, capers and fennel. That bold, artisanal-leaning preparation is spread over freshly baked ciabatta bread, a naturally leavened local version crafted with Old World technique.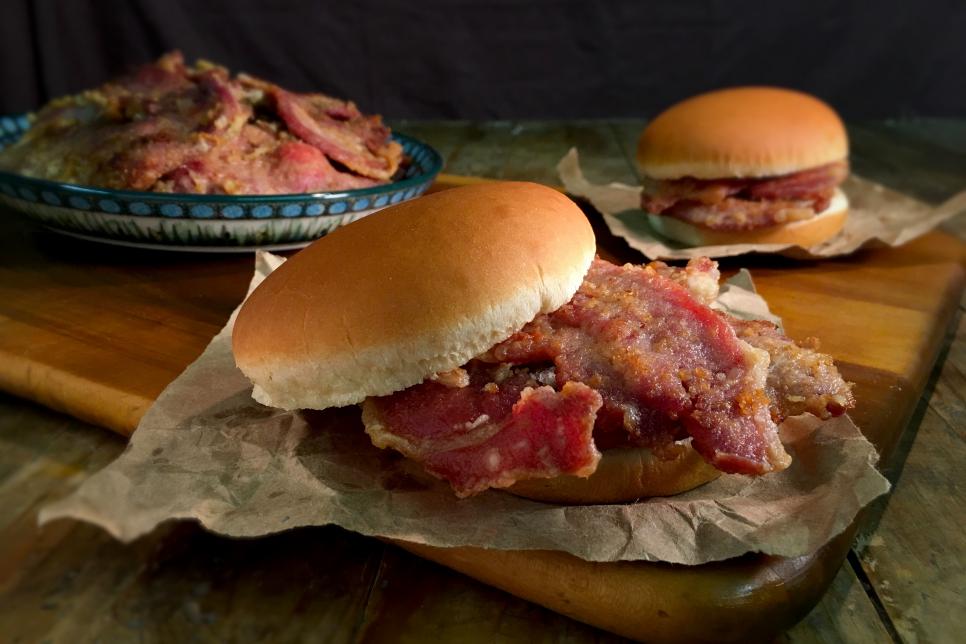 Country Ham: Fulks Run Grocery (Fulks Run, Virginia)
Ham and cheese is a U.S. classic, but in the South, it's all about salty country ham. This grocery store built in 1949 cures its pork the old-fashioned way, according to a family tradition that dates back well over a half century. Each ham is hand-rubbed with a special blend of salt, brown sugar and saltpeter, then hung to cure only during the winter months, when the natural temperatures are just right. At least five months later — probably longer — the flavorful meat is sliced from the bone, soaked in hot tap water, dredged in flour, fried until golden brown and piled high on a hearty bun. While the shop is open throughout the week, its famous fried ham sandwiches are served only on Fridays, generally from February to November. So, it's best to call ahead before making the trip.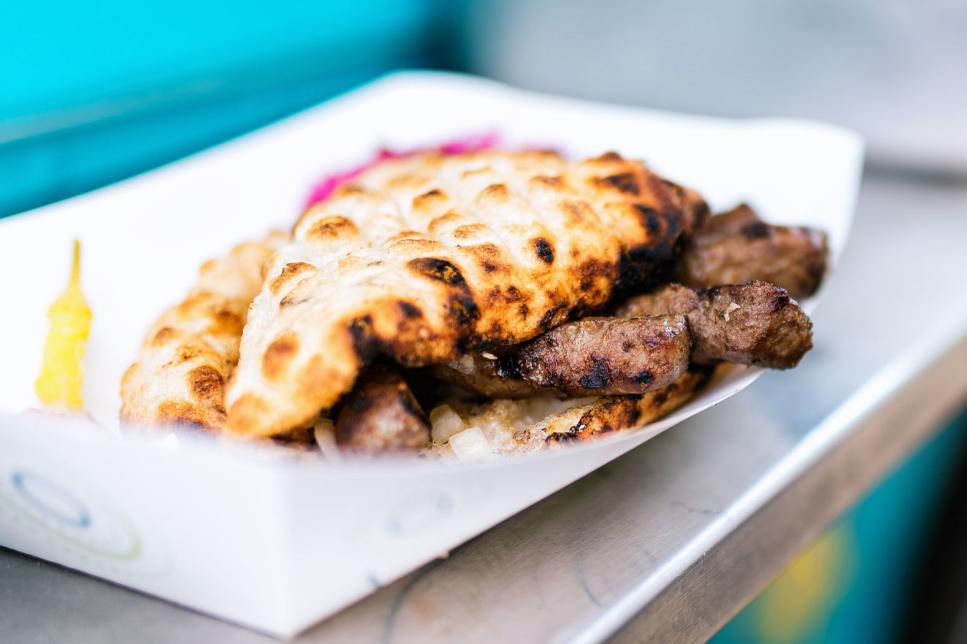 Cevapi: Balkan Treat Box (St. Louis)
Across the Balkans, chefs and home cooks combine minced meat and garlic into thin, finger-shaped kebabs and grill them over an open flame. This sausage-like specialty can be found plain without any accoutrements, but more often than not it's served in pillowy flatbread with flavorful condiments. That's what you'll find at St. Louis Bosnian food specialist Balkan Treat Box. The former food truck, now a brick-and-mortar restaurant, serves longer, denser Sarajevo-style cevapi in its homemade wood-fired pita (called somun) with raw onion and kajmak, a creamy white sauce that somewhat resembles clotted cream.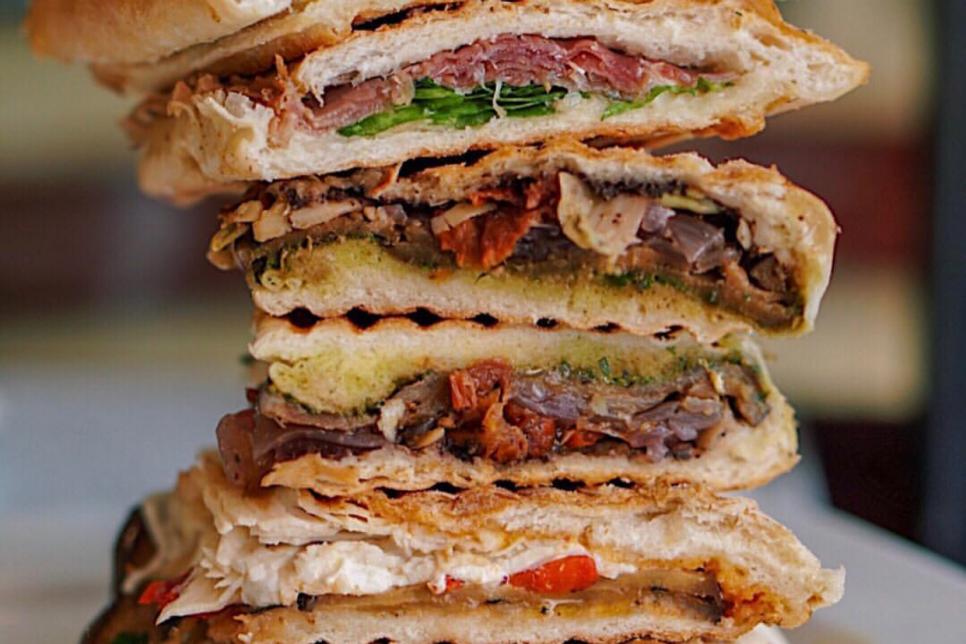 Panini: Antico Noe (New York City)
Panini is the Italian word for "sandwich," and, like most Italian foods, it's very simple and incredibly delicious. When done properly (i.e., the Italian way), each sandwich includes a very particular ratio of ingredients on super-fresh bread. That's what you'll find at Florentine import Antico Noe in New York City. The second outpost of a 70-year-old Florence panini shop with an enthusiastic cult following, it serves panini that are about as close as one could get to the motherland without a long-haul flight. About 90% of the ingredients are sourced from Italy, and the owners spent ample time replicating the bread recipe to ensure it's exactly the same. Because of a salt tax in Florence hundreds of years ago, that recipe doesn't include salt, but that's what makes the bread's perfectly crunchy exterior an ideal counterbalance to all of the wonderfully salty meats.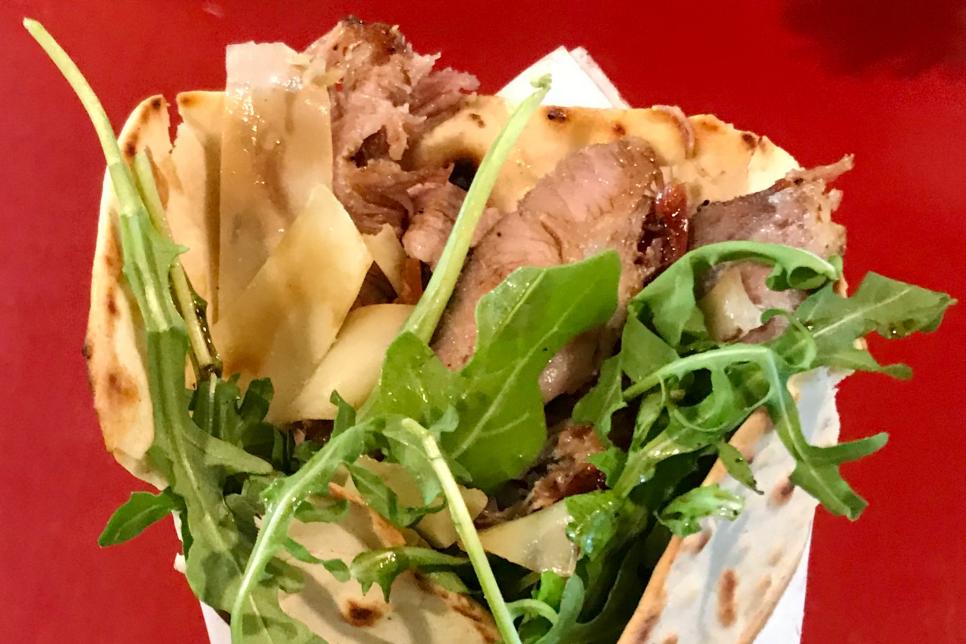 Porchetta is one of the most-famous street foods in Italy. Walk around Rome and it's not hard to find someone serving juicy whole pig that's been deboned, roasted on a spit and stuffed inside delicious bread. The dish used to be a rarity in the States, but it's not anymore — lovers of swine can now find it in most big U.S. cities. Sample it at specialists like Porchetta Republic in Los Angeles. The shop's porchetta piadina features crispy skin and lots of juice offset by fresh baby arugula, shaved Parmesan and just a hint of extra-virgin olive oil on scratch-made piadina, a popular Italian flatbread. The owners use their grandma's bread recipe of just flour, water, salt and lard.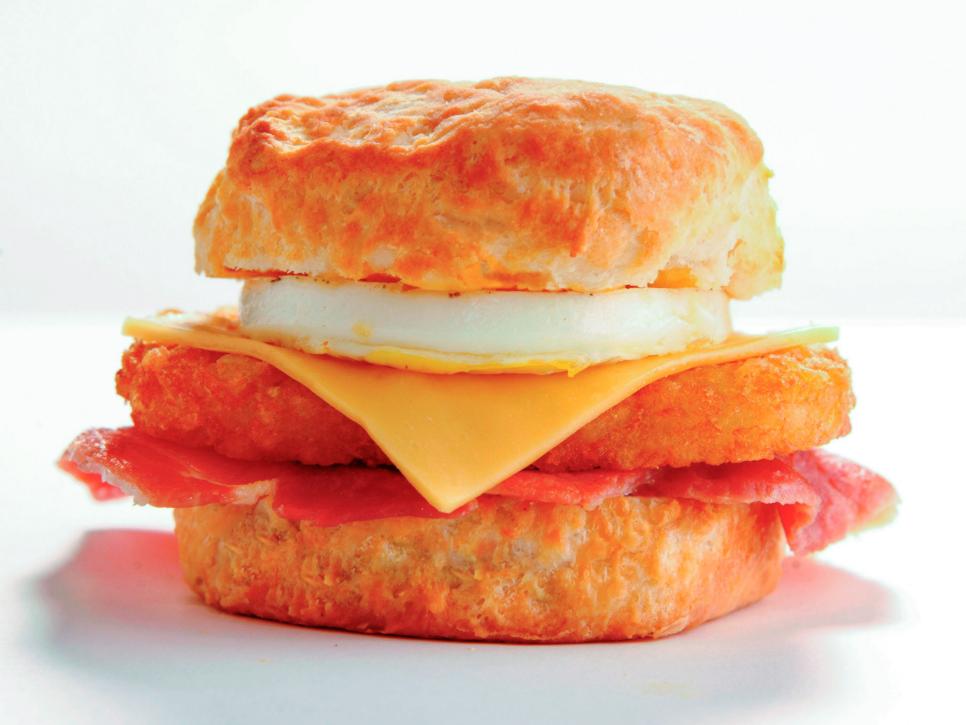 Mountaineer Biscuit: Tudor's Biscuit World (Charleston, West Virginia)
In West Virginia, biscuits are serious business — and biscuit sandwiches are pretty much a mandatory dish. Tudor's Biscuit World consistently ranks as one of the best purveyors of the buttery pastry in the state and, according to some, the best thing about the Mountain State. Suffice it to say, the state's namesake Mountaineer Biscuit has reached icon status in the Appalachian region. It's made with country ham, a crispy potato cake, egg and cheese, all cradled inside a flaky bun.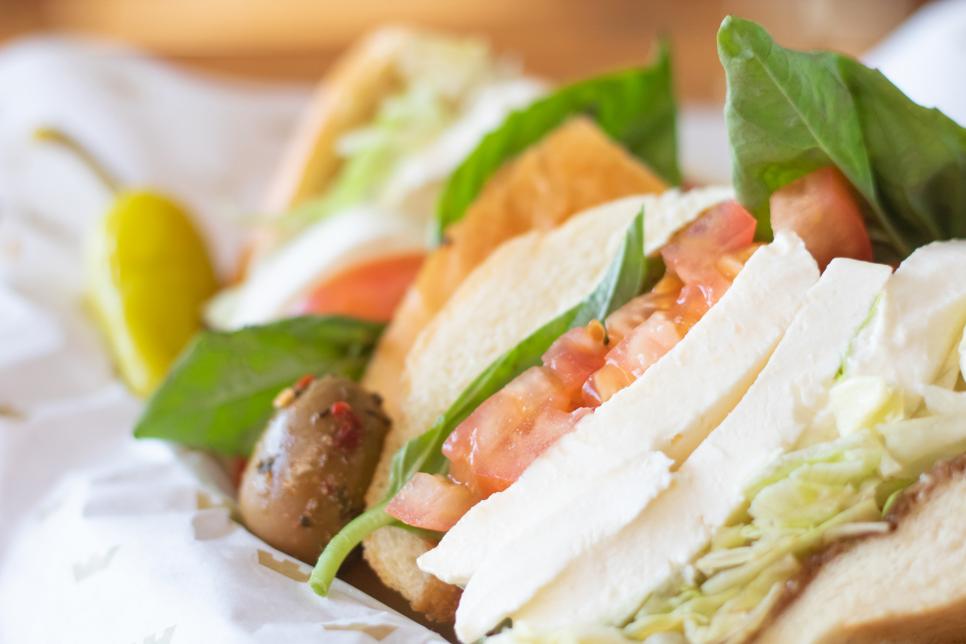 Caprese: Caputo's Market (Salt Lake City)
This Salt Lake City market is acclaimed for its wide-ranging selection of cheeses, so the slices stuffed into their deli sandwiches are leaps and bounds above those at most delis. On the cheese-centric Caprese — theirs is called the Fior di Latte — the quality is particularly noticeable. High-quality (and expensive) cow's milk fior di latte fresh mozzarella from St. Albans Creamery in Vermont is simply stacked with tomato, lettuce and fresh basil, with a solid drizzle of IGP-protected balsamic vinegar and real-deal olive oil bursting with the aromas of stone fruit, on a crusty white bread from local Stone Ground Bakery. "Our Fior di Latte is simply a classic rendition of a Caprese salad on bread," says owner Matt Caputo. "All the right ingredients and nothing extra."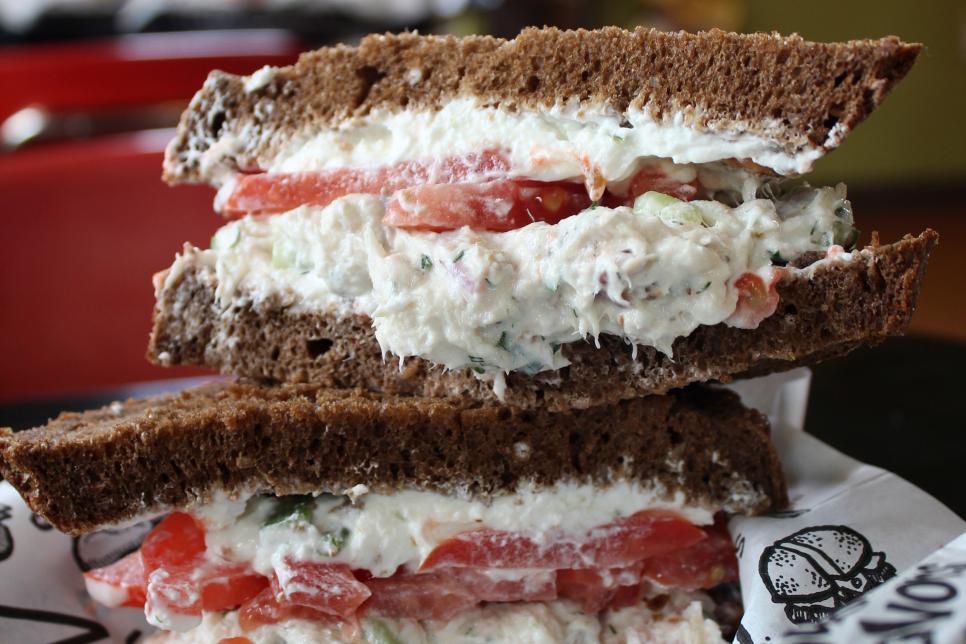 Whitefish Salad: Zingerman's Delicatessen (Ann Arbor, Michigan)
Randy Hampton, a dropout Ph.D. candidate in chemistry who came to work in Zingerman's Deli kitchen, inspired this whitefish salad sandwich. The former aspiring comedian, now a successful Ph.D. chemist who runs a lab at the University of California, San Diego, is the Randy in Randy's Routine. Smoked whitefish from Mackinac Straits Fish Co. is hand-picked off the bone and mixed with rich sour cream, mayonnaise, onions and fresh dill, then layered with scallion cream cheese and tomato on pumpernickel bread from Zingerman's Bakehouse. It was one of the first sandwiches on the university town deli's menu — and it's still a top seller.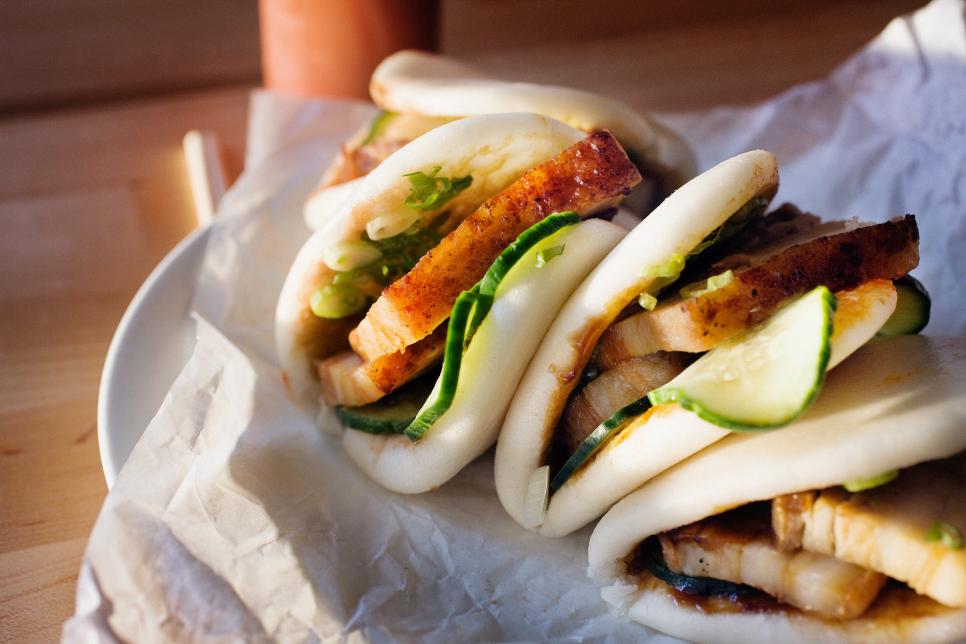 Pork Belly Bao: Momofuku Noodle Bar (New York)
Celebrity chef David Chang is known for many things, but he readily admits he would not be where he is today if it weren't for his pork buns. For the past 15 years, his constantly packed Momofuku Noodle Bar has been serving the simple yet extremely flavorful steamed buns, spawning countless imitators across the globe. The bao, featuring just-roasted pork belly with quick-cured cucumbers, scallion and hoisin on a fluffy and spongy bao bun, hits all kinds of flavor notes and textures. It's rich and fresh, sweet and savory, light and meaty, all at the same time — and this ever-popular dish has kick-started an international bao movement.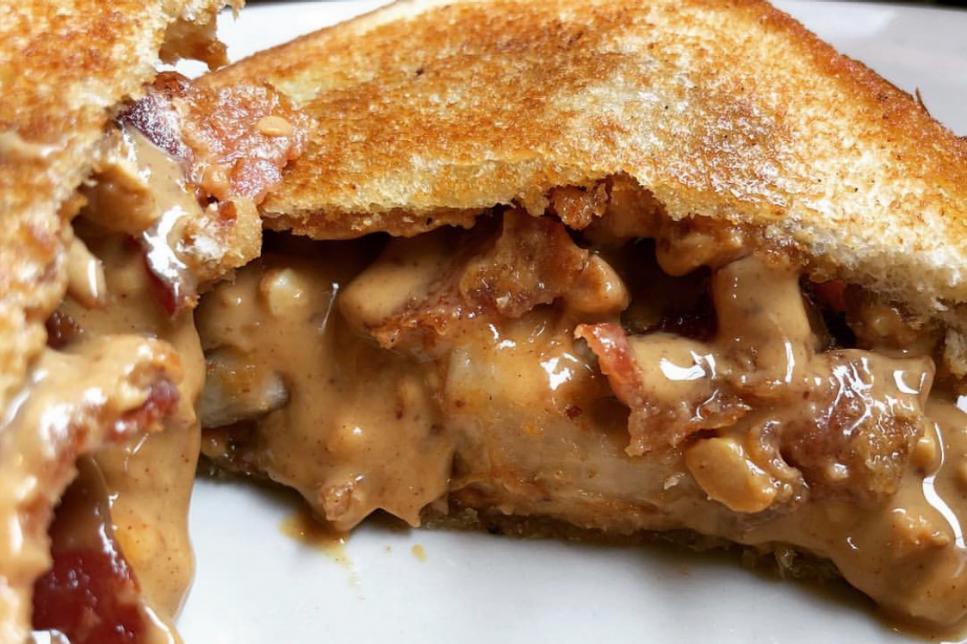 Fried Peanut Butter and Banana: The Arcade (Memphis)
Some people think that Elvis Presley was the only one obsessed with fried peanut butter-and-banana sandwiches, but that sweet and creamy combination is actually a regional specialty across the Mississippi Delta. One of the best versions in the area is served at The Arcade in the King's home base of Memphis, Tennessee. There, thick Texas toast is smothered with peanut butter and about half a sliced-up banana. The cooks add a good amount of butter to the griddle and fry up the sandwich until the edges of the bread's crust begin to brown. While they do serve a simple vegetarian version, many guests choose to add bacon to make the dish even more flavorful and filling.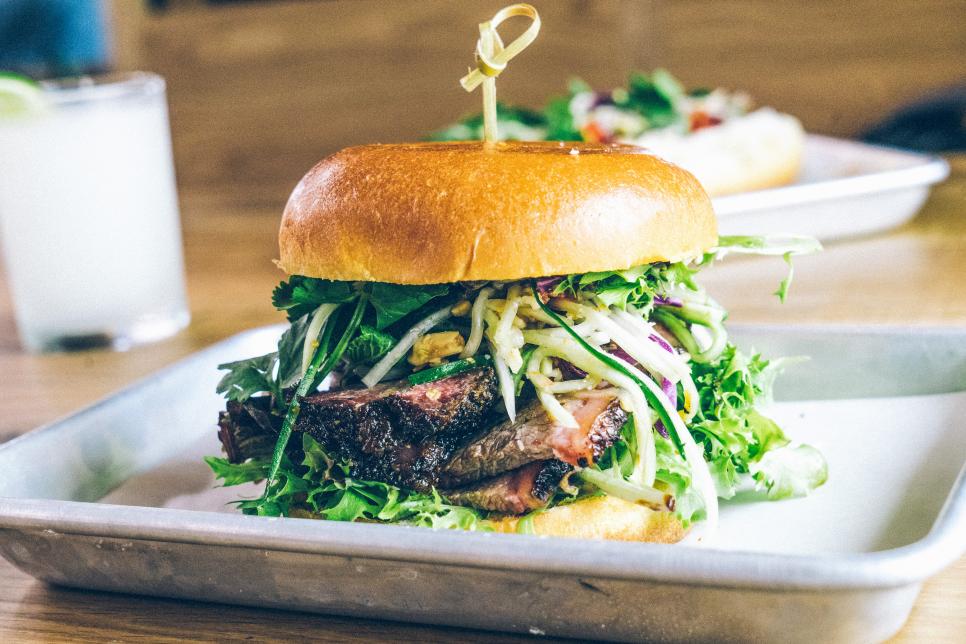 Barbecue Brisket: Loro (Austin, Texas)
While the word barbecue means pork in the Carolinas, in Texas' Hill Country, the term is synonymous with beef brisket. Aaron Franklin of Franklin Barbecue is consistently hailed as the leader of the pack. The no-reservations, counter-order barbecue joint has notoriously long lines — President Obama was the only person ever offered a reprieve — but the James Beard Award winner's brisket can also be found at his new Asian-inspired smokehouse, Loro. Co-owned with Chef Tyson Cole of Uchi and Uchiko fame, Loro offers guests a chance to sink their teeth into Franklin's smoked and grilled brisket sandwich, marinated in nuoc mam and finished with herbs and chile oil, sandwiches with zesty papaya salad, peanuts, chile aioli and thai herbs — hopefully with a slightly less onerous wait time.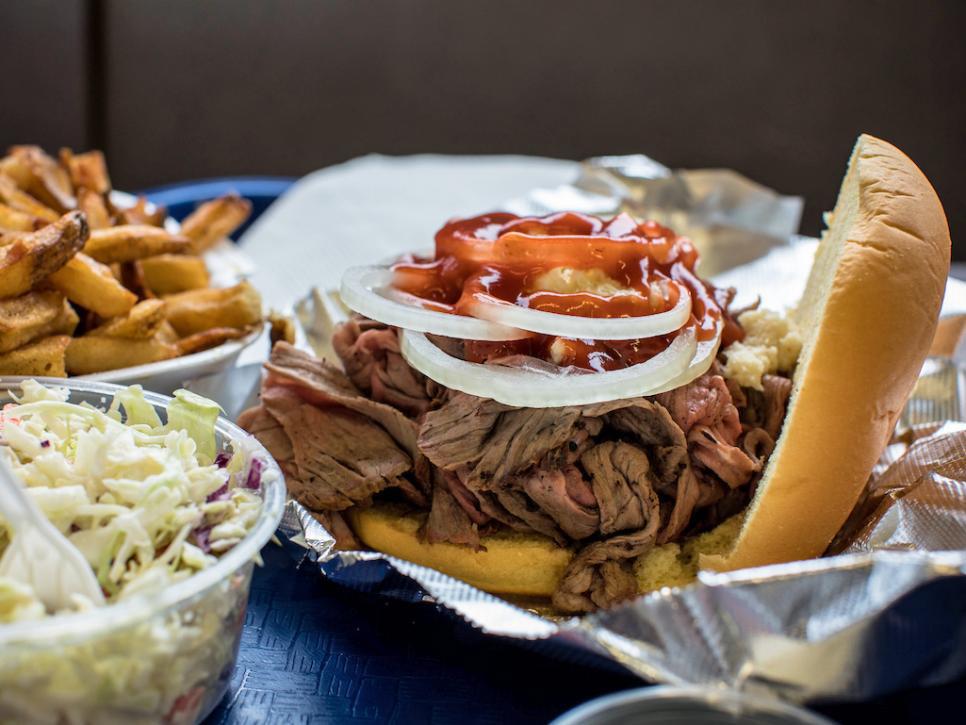 Maryland Pit Beef: Chap's Pit Beef (Aberdeen, Maryland)
The opposite of Kansas City, Texas and the Carolinas low-and-slow philosophy, Maryland's regional barbecue cooks hard and fast. Lean-top roast beef is minimally seasoned before it's tossed onto a grill directly over hot charcoal. When it's somewhere between raw and medium-rare, the whole thing is sliced into thin pink silvers, which are piled into a roll. At Chap's Pit Beef in Aberdeen and Baltimore, those shreds of tender meat are enlivened with onions and the signature Tiger Sauce, a spicy blend of mayonnaise and horseradish.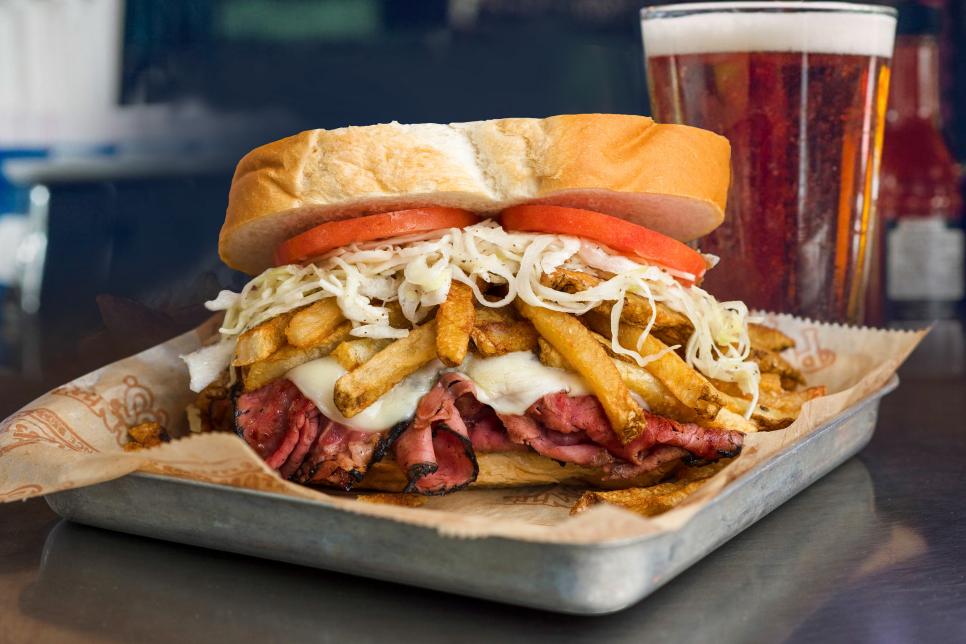 Almost Famous Pastrami: Primanti Bros (Pittsburgh)
This Pittsburgh institution, now a national franchise, isn't famous for one particular sandwich — it's infamous for its accoutrements. Sweet and sour coleslaw, two tomato slices and — here's the important part — a handful of hot and crispy hand-cut French fries are what makes these massive sandwiches so famous. You can pick from about 20 different protein options, ranging from oven-roasted turkey and cheese to imported sardines and cheese. The best one of these giant concoctions is the salty, smoky pastrami with cheese, served between large slices of soft Italian bread with the standard trifecta. To think what started as a small wooden lunch stand in Pittsburgh's Strip District during the Great Depression has turned into national fry-covered sensation. Hey, fries do make everything that much more delicious.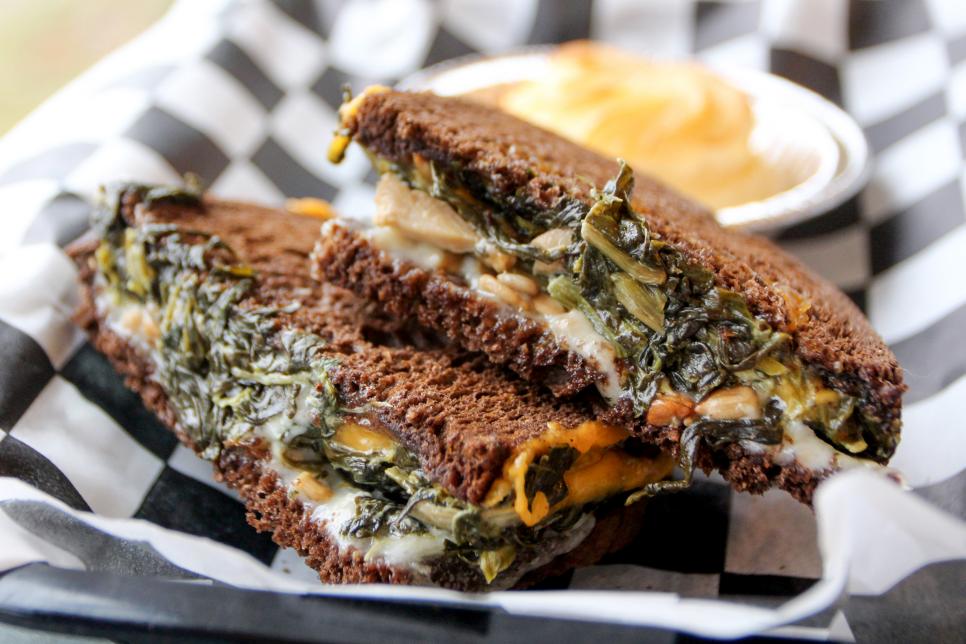 The Garden Sandwich: Jimmy's Serious Sandwiches (Little Rock, Arkansas)
Back in 1979, way back when Americans were told to eat two or more servings of meat every day, Jimmy Weisman took a chance and entered The Garden sandwich into the National Sandwich Contest that year. He beat out over 1,000 other meatier entries, taking home the blue ribbon for his meatless combination of cheddar and provolone cheeses, sunflower seeds, spinach pate, mushrooms, mayo and alfalfa sprouts on pumpernickel. The Garden has become the linchpin of Weisman's eponymous Little Rock sandwich shop, Jimmy's Serious Sandwiches, as well as the most-famous vegetarian sandwich in all of Arkansas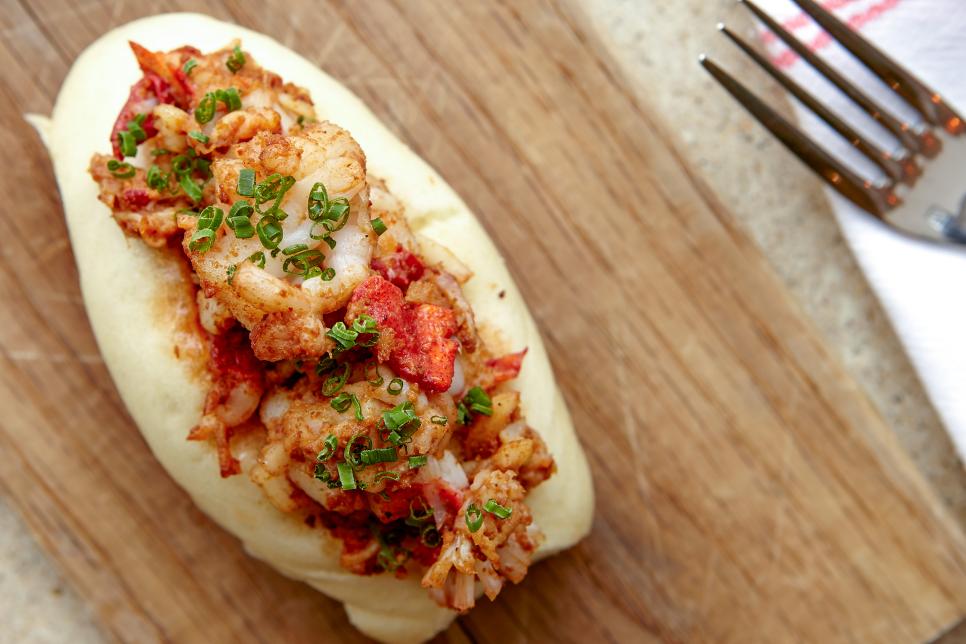 Lobster Roll: Eventide Oyster Co. (Portland, Maine)
There are a lot of great things to see and do in Maine: stunning oceanside cliffs, verdant forests, antique wooden ships sailing through fog-covered harbors. Even so, the first thing most visitor want to experience upon arrival to the Pine Tree State is a lobster roll in the place where lobster's best. The signature Eventide Brown Butter Lobster Roll is regarded as the top pick of many a top chef. This warm sandwich combines straight-out-of-the-water Maine lobster meat with a nutty, salted brown-butter vinaigrette stuffed atop a bao-style steamed bun. This creative update is certainly rich, but the hint of lemon in the buttery dressing cuts through the potential heaviness, brightening the flavor of the perfectly cooked shellfish.
2021 /FOOD/ D&F Magazine
---