Francisco Rabaneda Cuervo, better known as Paco Rabanne, was one of the most influential fashion designers during the mid-to-late 20th century. His use of metallic textiles dictated an era of new style, one that was both criticized and celebrated. Referred to as l'enfant terrible of the French fashion world during the '60s, Rabanne worked with several actresses, singers, and models who would become his muses over time.
Rabanne was born Francisco Rabaneda Cuervo in the Basque region of Spain. His mother was the head seamstress for the famed Spanish-born couturier Cristobal Balenciaga. Rabanne initially studied architecture at the école Nationale des Beaux-Arts in Paris. He began his fashion career only in the early 1960s, with a collection of large plastic accessories he sold to the couture houses. From these humble beginnings, he fashioned garments that reflected the zeitgeist of the mid-1960s. But unlike Pierre Cardin and André Courrèges, who employed traditional couture techniques for their "futuristic" designs, Rabanne was interested in creating fashion with uncharted and imaginative production methods using novel postwar industrial materials.
Rabanne is a man of multi-dimensional talents, some garner him success while others have made him infamous. Apart from the usual, he has shown a inquisitiveness in paranormal phenomena, in which science loses its authority to justify certain events and experiences. He became quite notorious for falsely predicting the fall of Mir, a Russian space station in 1999 on Paris.Paco Rabanne presented his first collection, Twelve Experimental Dresses, in 1964 and followed it in 1966 with a couture collection he called Twelve Unwearable Dresses. This sculptural micromini dress, constructed of square and rectangular aluminum plates joined with metal rings, is a rare surviving example from his "unwearable" collection. With its allusion to chain mail, the dress establishes Rabanne's practice of citing historical elements in his space-age aesthetic. The innovative construction and unconventional use of material epitomize the exploratory and experimental sensibility of much 1960s avant-garde fashion.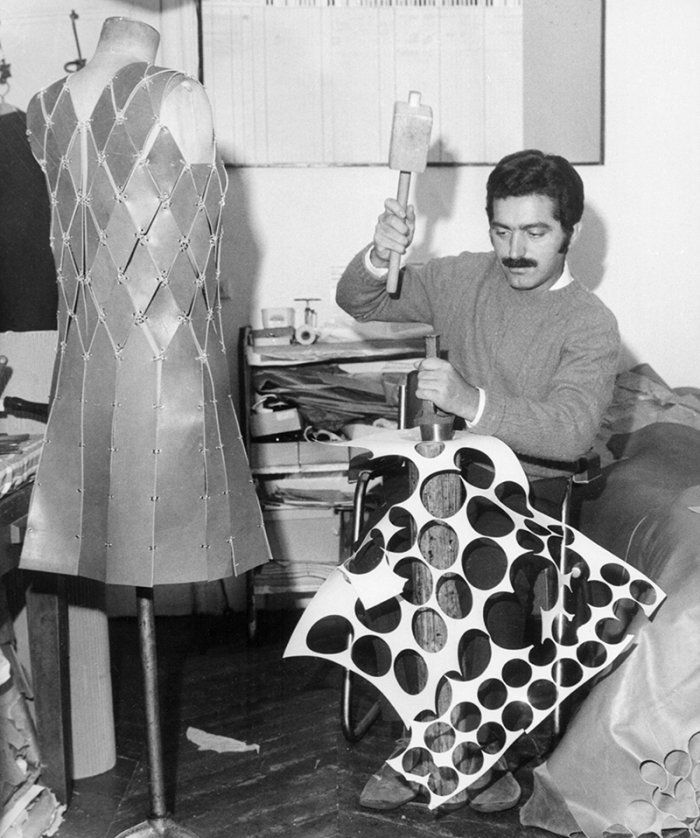 "I defy anyone to design a hat, coat, or dress that hasn't been done before…The only new frontier left in fashion is the finding of new materials." -Paco Rabanne
Today Paco Rabanne has moved away from the fashion world. In his declining years, the master lost interest in high fashion, and in 1999 he handed over the affairs to young, energetic, and no less talented successors. Since 2013, the Creative Director of the brand is Julien Dossena, who, like Rabanne, worked for some time in the Balenciaga fashion house. Since 2014, the Paco Rabanne fashion house has been owned by the PUIG group of companies. Julien Dossena rethought the brand's corporate identity, abandoning heavy metal – these are all the same chain mail, plates, and scales, but made of light plastic. "When I think of Paco Rabanne, I don't think retro – I think revolution, rebellion and renaissance," Julien Dossena says.
Albina GG / 2021 FASHION/ D&F Magazine