Polka dots are so fun to wear and definitely add a graphic element to any ensemble, but maybe you've always wondered how they came to be — or where the name even originated from.
For you curious fashion historians out there, they've actually been around for centuries, and (surprise!) the name comes from the polka dance. Read on to see the print's evolution and how much it's had an impact—not just on fashion but also on society as a whole.
There was thing you might've learned about in history class called the Industrial Revolution, which began circa 1760, so before this time, the textile machinery wasn't sophisticated enough to create symmetrical circles on fabric. The sewing machine was invented in 1790 (although the first working machine wasn't created until the mid-1800s), which finally made the creation of perfectly round and evenly spaced dots possible. The pattern was originally associated with the plague and uncleanliness, though, until it became more of a fad in the next decade.
In the early 1920s, polka dots captured the youth driven look fashion was founded on. They were especially popular as house dresses and even garden dresses if the dots were small and set against a white background (1922 picture above). By the mid to late 1920s, the polka dot dress left the house and became a staple pattern for semi formal afternoon dresses. Polka dot print fabric never crossed into evening wear, but beaded dot patterns were certainly a common design element on Art Deco/ geometric inspired designs.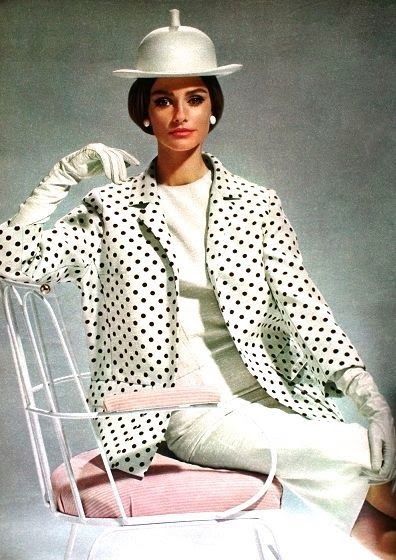 The 1940s era loved polka dot dresses for all occasions. Small dots and large dots were equally common, as well as prints that looked liked dots from a distance but were perhaps oval or another non strict circular shape. Polka dot materials were made into suits and maternity dresses as well. An explosion of polka dots naturally continued on to sportswear. Tops and bottom both featured prints (although they weren't worn at the same time). Crop pants were often rolled so the hem showed a polka dot lining. Tops could be all dots or only the cuffs and collars. Colored socks, hair scarves, and jewelry came in polka dots too. It was a time when polka dots accessorized everything.
The 1960s had two looks that each adopted polka dots. The first was the return to the school girl style. Polka dot prints appeared on baby doll dresses trimmed with white collars and ruffled lines. It was a similar response that the 1920s had on their young girls look.
The second look was the mod style. Polka dots were no longer symmetrical. Instead, all shapes and sizes appeared in bold, shocking colors. Polka dots as an accent was very mod too